Championship Story: Chance to Be a Game-Changer
March 15, 2013 | Launching Multipliers!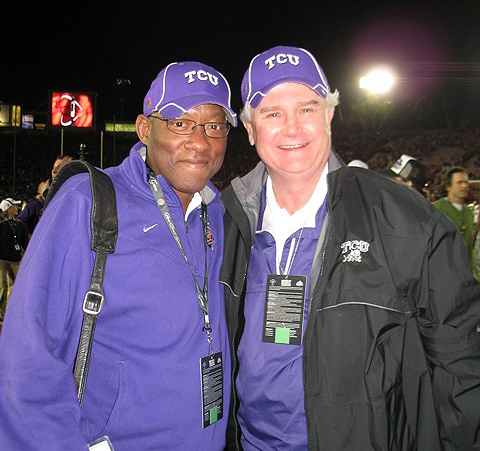 On January 1, 2011, Ken and Kathy enjoyed attending the Rose Bowl. After investing 17 years as the chaplain of the TCU football team, it was an amazing experience. Kathy was full of joy. She sat on the fifth row, watching the game with genuine interest through eyes that preferred basketball (she is a Tarheel). Though she only knew a handful of the players and coaches, she was excited when TCU won. She had an after-game field pass and happily made her way to share the confetti-filled celebration with the team in that majestic stadium.
I had a sideline pass, watched the game a few feet from the action, hugging players after they made great plays and attempting to be as vocal as possible in his support. He knew many of them well after years of conversations during road trips and after practices. There was a lump in Ken's throat as he watched happy tears flow down the faces of dozens of strong, athletic students and coaches who swarmed the field celebrating their win over a powerful Wisconsin team.
Scout team players were on the same sideline. They had on game uniforms and theoretically could have played, but knew they were not going to have that honor. But their hard work had been one of the key factors in a great season. They had invested hundreds of hours in the previous 11 months and were on the team. They had received the special gifts provided at a BCS bowl game and would receive a spectacular ring declaring they were Rose Bowl champions, a distinction they would carry for the rest of their lives.
The players who played, especially the starting lineup and the star players, had the thrill of impacting the outcome of the game. They had expended every ounce of energy and utilized the months of training to play as a team, accomplishing something none of them would have expected a few months before. Covered with sweat, and in some cases bloodied by the intense action, they smiled and cried simultaneously as they attempted to absorb the delights of that moment.
The coaches were exhausted from months of fifteen-hour days and the stress of preparing for the biggest game of their careers, not to mention the challenge of keeping 125 college students focused for nine days in downtown Los Angeles. Their faces were marked by exploding grins moistened by tears of happiness and relief. It was a moment none would forget. Every person on the Rose Bowl turf wearing purple that night was as joyful as they could be. They were part of the winning team. It was a glorious experience. But Kathy's joy was different than Ken's. Without doubt, Ken's was less than the scout team players. And theirs was not as great as the ones who actually played in the game. Even the role players experienced a different sense of fulfillment from those in the starting lineups who had made decisive plays. For the coaches it was a career-defining moment, one to be savored all their days. Everyone was filled with joy, each with a distinct capacity shaped by the scope of their investment and participation in the triumph.
Unlike championship football teams, God's team is not built on the fastest, strongest, or smartest. There is room for anyone available for the game-changing action. You will determine whether you are on the field or the sidelines. God is looking for people He can strengthen "whose hearts are fully committed to Him" (2 Chron. 16:9a) regardless of their SHAPE.
Your faithfulness in Christ's mission, motivated by gratitude to God and relying on the Spirit's empowerment, will establish your capacity to embrace the infinite joys of eternal life.
EDITOR'S NOTE: This is a story, written by Ken Horton, that can be found in Lesson 17 of Launching Multipliers!